Collection of geodetic instruments at UL FGG
The Department of Geodetic Engineering at the Faculty of Civil and Geodetic Engineering of the University of Ljubljana (UL FGG) has a collection of geodetic instruments that includes more than 100 museum pieces. Most of the instruments are on display, while some of the newer instruments are deposited in the Faculty. With the help of Janez Goršič, MSc., the collection was compiled and systematically organised by Dr. Dušan Kogoj.
The objects have been well inventoried. They date from the mid-19th to the early 21st century. The history of acquisition and details of use are not known for individual, especially older, surveying instruments, but most of the instruments are related to teaching in the surveying programme at the University of Ljubljana. More than half of the instruments in the collection have required partial restoration, and some of the oldest instruments have been fully restored. This extensive and meticulous work was carried out by Mr. Rudi Vidic, who specialised in this field during his 30 years of work at Kern.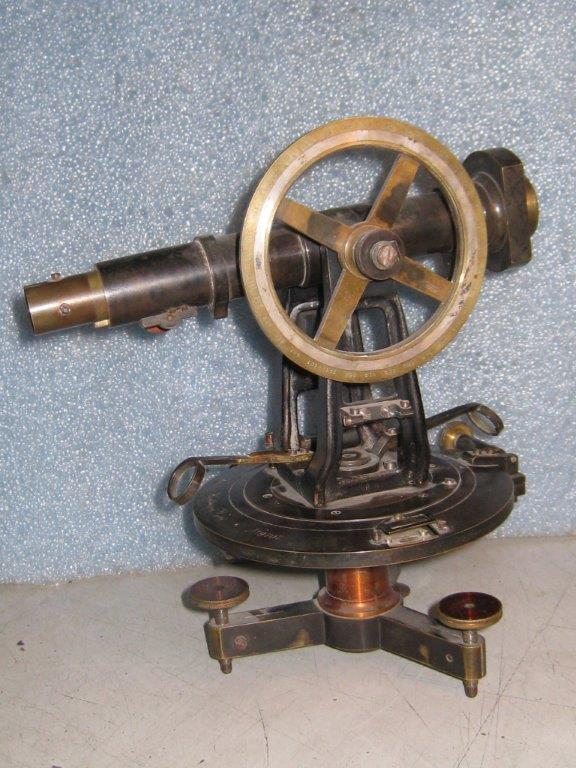 In 2019, with the help of Martina Orehovec, MSc., curator and keeper of the Slovenian geodetic collection at Bogenšperk Castle, the Technical Museum of Slovenia added the objects to the Kronos database. Thus, the collection of geodetic instruments from UL FGG is included in the records of the National Museum, which houses the collections in the field of science and technology in the Republic of Slovenia.
The instruments are displayed in the corridor of the Department of Geodesy (4th floor) and in the lobby of UL FGG at Jamova cesta 2 in Ljubljana, where they can be freely viewed. A virtual collection is also available on the UL FGG website.
Description of the instruments
The descriptions of the geodetic instruments were prepared in the context of the master thesis of Dominik Mlakar, MSc. The instruments are divided into four main types of terrestrial surveying instruments: Theodolites, Levels, Tachymeters and Distance meters. The groups of topographic sets (Kipregels) and Sextants have also been added. The instruments are grouped by manufacturer, year of manufacture, or serial number.
The inventory was carried out by inspecting each instrument, assessing its condition, and learning about its operation. The description of the instrument consists of an explanation of its main features and an indication of more detailed technical characteristics. Some information was taken from additional literature and online sources. The pictures accompanying the instrument descriptions are the work of Mateja Urbas, UL NTF.
Ljubljana, September 2021
List